...For Lungu to set out to repair the damage.
The importance of international relations of a nation cannot be over-emphasised, for even in history, nations related with each other one way or the other. Zambia is definitely no exception. In fact, to prove the point, Zambia's President, Edgar Chagwa Lungu, in office since the January 20 elections, has visited Zimbabwe, Angola, South Africa and China to date.
Late President Michael Sata did not endear himself to other countries' leaders maybe because of how he conducted himself in their presence. One of his first visits abroad as head of state was to Uganda which proved to be a disaster in terms of protocol when he defied officers who were trying to guide him on the sitting arrangements. He went to chat with people he thought were Zambians.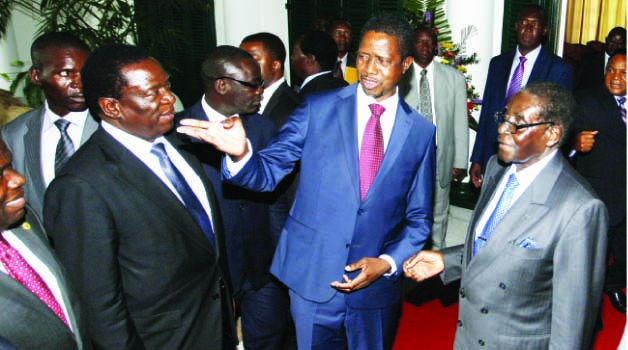 President Lungu (centre) in Zimbabwe.
Another controversial foreign visit by President Sata was during a Southern African Development Community (SADC) summit in Mozambique where he joked about the tension that had been brewing between Malawi and Tanzania regarding the border between the two neighbouring countries. President Sata further referred to Swazi's Mswati as king of Southern Africa.
An equally disastrous foreign trip that did not go well in diplomatic circles was President Sata's visit to Botswana where he threw all diplomatic etiquette to the wind telling off Zambians resident in that country for teaching and treating Batswana leaving Zambians unattended back home.
George W Bush Visits Zambia
A noteworthy issue about Zambia in the three years of President Sata's administration was that only President Robert Mugabe visited Zambia, Livingstone, a city on the border with Zimbabwe for that matter, for the WTO summit which was co-hosted by the two countries. An international politician of note to visit Zambia was former US president George W Bush who on two occasions travelled to inspect his charity caring for cancer patients in the country.
In agreeing with special assistant to the President for press and public relations Amos Chanda who said that state visits are necessary for Zambia as reflected in the goodwill which President Lungu received during his visit to China, it is important to further advise the government that it should try and derive as much benefit as possible in the relations that the nation forges with other countries.
I would urge President Lungu to go to the negotiating table with other countries that need Zambia's resources as an equal partner that can dictate terms for her country's resources. President Lungu, along with other African leaders, needs to draw lessons from oil-rich Middle Eastern countries that are able to drive a hard bargain with those after their oil resources.
[Photo credit: Times of Zambia]