...#FreeLauraMiti
A guest post by Greenwell Nyirenda
I am appealing to the Inspector General of police and her command to release Laura Miti for she has not committed any crime. A lone protest doesn't need a permit, using common logic the term lawfully assembly which has a requirement of police permit only applies to people assembling who are more than one.
Hence the arrest of human rights activist by the Zambian Police should be condemned as it is illegal and a human rights violation. Laura, staged a lone protest against the ongoing Xenophobia targeted at African nationals by locals in South Africa. She was not attacking any one as cadres do every day in markets, streets and stations. She was not selling or dealing in illicit drugs and drinks as what is sold in Chibolya Compound.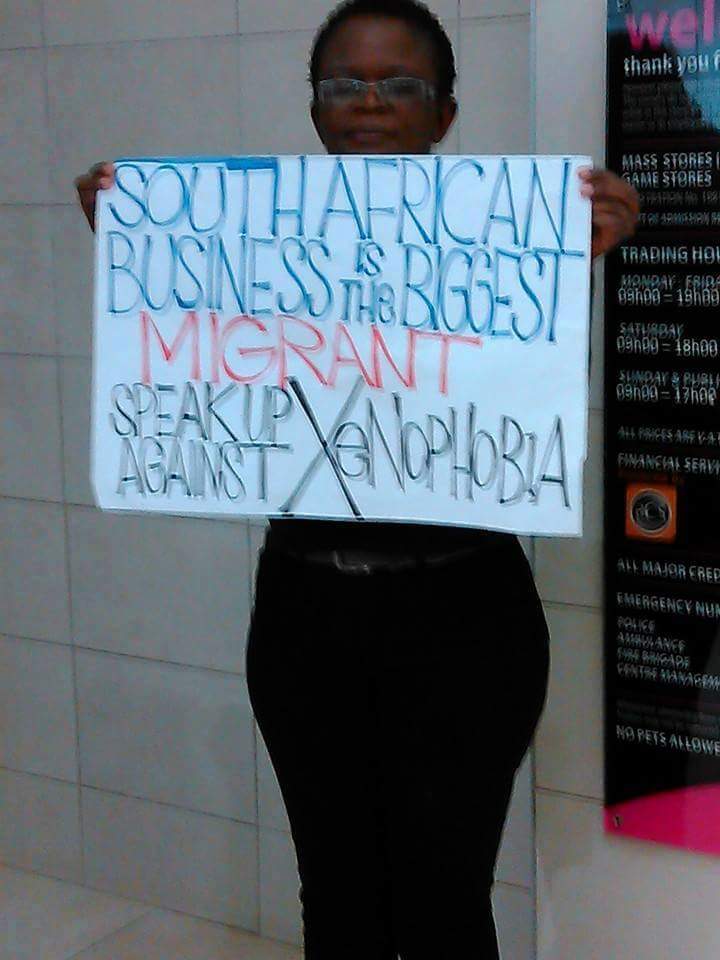 Laura Miti, during her lone protest at which she was arrested.
She was not fuelling violence, inciting conflict or crime as what most of our public places experience from cadres in full view of Zambian police. Yet police have never seen acting swiftly on perpetrators of crime in our society but they have wasted time, resources and tax payers money in arresting and violating an innocent woman who is sending a strong and decisive message to the world leaders, South African government in particular to act fast and curb this violence against foreign nationals. The action of Zambian police, yet again has exposed the unprofessionalism and lack of interpreting of our law to the simplest logical terms.
It doesn't need a legal expert to crack and interpret what the public order act clearly states on who should get a permit when protesting. Zambian Police is sending an indirect message that they endorse the criminality and violence against foreigners in South Africa. This action speak volume of the non-existent of simple dialogue and championing coercion with the citizens. Free laura with no charges!!!
Free Laura! Free Laura.
*Laura Miti is a journalist and human rights activist who stage a lone protest against the ongoing xenophopbic attacks against non-South African Africans resident in that country. Laura spends lengthy periods of time in South Africa where she works at one of the universities there. During this wave of xenophibic violence, Laura was, fortunately, back in Zambia. She could easily have been a victim like others who have lost their lives or injured in the process.